10 Best Vegetarian Restaurants In Major U.S. Cities
Vegetarian dining is far from a niche interest in America's culinary landscape. With an increasing number of people prioritizing sustainability, health, and diverse food experiences, vegetarian restaurants are flourishing in cities coast to coast.
The ten restaurants we've included on this list were selected for their innovative menus, high-quality ingredients, exceptional service, captivating ambiance, and positive customer reviews. If you find yourself in any of these ten cities, check out these restaurants and try some of the signature dishes we mention below.
We've purposefully included restaurants at different price points. Some of these options are local gems that offer a more no-frills dining experience, while others offer carefully curated tasting menus with a higher bill.
New York City, NY: Dirt Candy
Under the leadership of Chef Amanda Cohen, Dirt Candy offers a creative, vegetable-focused menu. Currently, the restaurant offers five-course tasting menus for $95 per person, making it one of the more expensive offerings on this list. The current spring 2023 menu includes a carrot mille-feuille, spring pea ravioli, and a course combining four different types of broccoli with Serrano chilis and fermented jalapeños. Located in the Lower East Side, this restaurant's vibrant atmosphere and rave reviews will certainly excite vegetarians and non-vegetarians alike.
Los Angeles, CA: Crossroads Kitchen
Located close to Beverly Hills, Crossroads Kitchen is a fine dining restaurant offering a completely plant-based menu crafted by Chef Tal Ronnen. Diners can order a la carte or be served a seven-course tasting menu priced at $175 per person. Signature dishes like "Eggplant Skirt Steak" and "Pumpkin Seed Tofuo Marsala" have earned the restaurant acclaim from diners and critics. It's a warmly-lit restaurant with a great cocktail selection, modern design, and consistently high-quality service.
If you're on the east side of Los Angeles during your visit, we recommend checking out Bulan Thai – a delicious and affordable Thai restaurant serving noodle dishes with veggie chicken and veggie pepper steak as meat alternatives.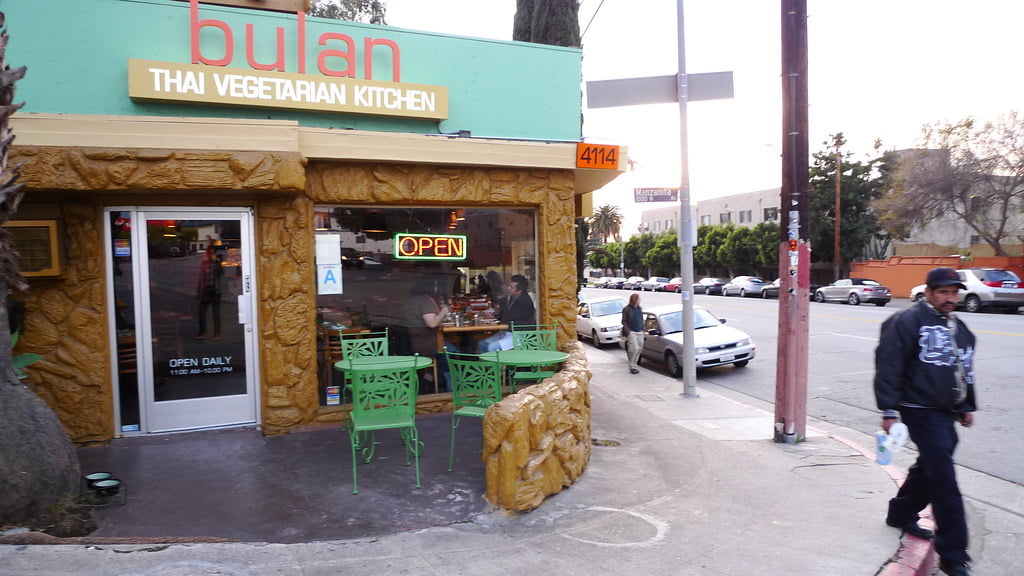 Austin, TX: Bouldin Creek Cafe
This casual, bohemian café is known for its affordable yet delicious vegetarian and vegan options. Heart omelets and tofu- or egg-based breakfast tacos are local favorites. We highly recommend the blueberry cornbread served with eggs. With its bright, eclectic interior design, laid-back vibe, and rave reviews for its food and service, it's quickly becoming a staple of Austin's food scene. It's also one of the most affordable options on this list.
Philadelphia, PA: Vedge
Vedge offers a gourmet plant-based experience, showcasing the potential of vegetables in dishes like their rutabaga fondue and grilled asparagus with horseradish. Vedge calls its dishes "medium plates," existing somewhere between entrees and tapas. Housed in the historic Tiger Building building with a stylish, intimate ambiance, Vedge receives consistently high praise for its innovative menu. Dinner plates range from $10 to $22 – Vedge recommends buying three plates per person.
Portland, OR: Blossoming Lotus
Located in Portland's Lloyd District, Blossoming Lotus is one of the few fully vegan restaurants we've included on this list. The menu combines various foodways, from Asian-inspired dishes like bibimbap and a Thai wrap to a delicious tempeh bacon sandwich. Blossoming Lotus also offers a variety of vegan smoothies and juices.
San Francisco, CA: Greens Restaurant
With a menu showcasing locally grown, organic produce, Greens has been an SF staple for years. Like Blossoming Lotus, the menu takes inspiration from all over the world, including dishes as different as spring japchae and griddle cakes. The restaurant offers stunning views of the SF harbor and Golden Gate Bridge, and dishes like their Chipotle Corn and Poblano Pizza receive consistent acclaim.
Chicago, IL: Alice & Friends' Vegan Kitchen
Located on the north side of Chicago around Andersonville, Alice & Friends is an "Alice In Wonderland" inspired vegan restaurant that offers delicious Asian-inspired vegan dishes like traditional Japanese teriyaki and Burmese noodle salad. They make a vegan Spam sandwich with a housemade mayo we'd highly recommend. Housed in a quaint brick building, Alice & Friends is sure to win you over if you're visiting the Windy City.
Miami, FL: Planta
Planta offers a 100% plant-based menu in a lush, tropical-inspired setting. Dishes like the Planta Burger and hearts of palm Ceviche are crowd favorites. It's committed to sustainability and has received rave reviews for its flavor-packed dishes.
Seattle, WA: Plum Bistro
This Capitol Hill favorite has been around since 2009. Plum Bistro offers vegan comfort food in a stylish, industrial-chic setting. Dishes like Buffalo Portabello Burger and Veggie Monster Pizza have loyal followings. The restaurant has received high praise for its flavorful, satisfying dishes. It falls in the middle of the pack here in terms of affordability, with most dishes costing between $15 and $25.
Denver, CO: Watercourse Foods
Watercourse Foods offers a varied menu to cater to all tastes, with dishes like sesame-crusted tofu and a delicious pesto risotto. With its comfortable, relaxed atmosphere and a reputation for generous portions, it's a beloved member of Denver's food community. The restaurant features a largely wood interior design and offers a variety of cocktails and other vegan drinks.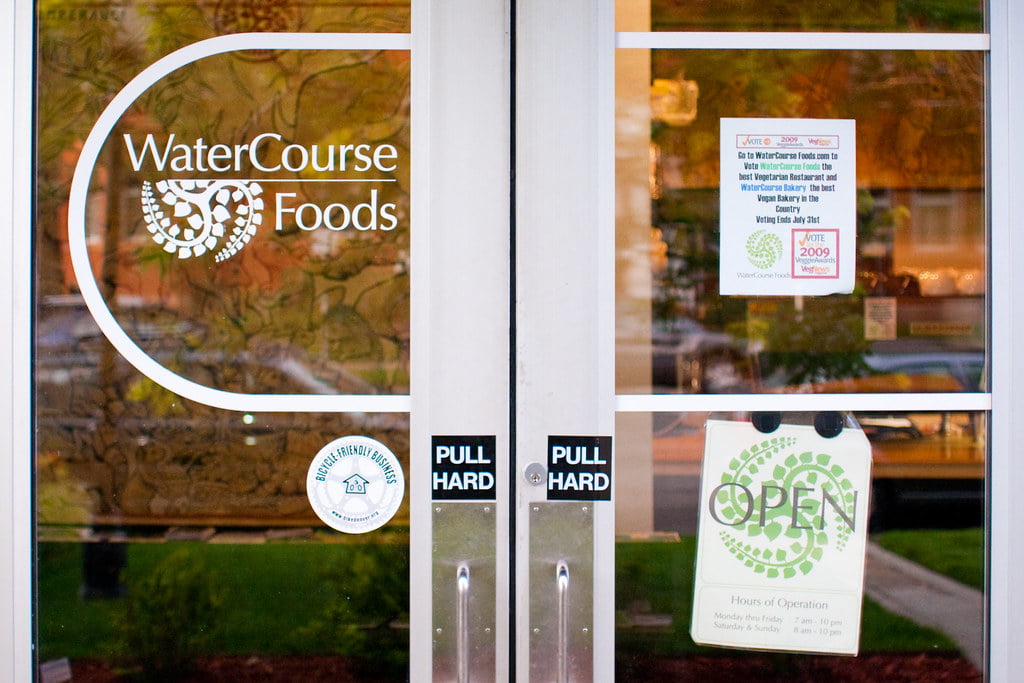 Conclusion
Vegetarian dining in the United States is diverse, innovative, and readily accessible. Each of the establishments we've included on this list offers a unique take on plant-based cuisine, proving that vegetarian food can be flavorful, satisfying, and a gourmet experience.
Whether you're a lifelong vegetarian, testing the waters of plant-based eating, or simply a food lover in search of new culinary experiences, these restaurants promise to deliver delicious meals that will delight your palate and perhaps even inspire some home cooking. So, the next time you find yourself in one of these cities, consider stopping by for a meal that's as good for the planet as it is pleasing to the taste buds. Bon Appétit!