What's Vegetarian at Starbucks? Your Comprehensive Guide
With the increasing interest in vegetarianism, people are seeking meat-free options in various food establishments. Starbucks, a global coffeehouse chain, offers a variety of vegetarian options alongside its signature beverages. This article aims to help vegetarians find suitable food options at Starbucks. Keep reading to learn what's vegetarian at Starbucks.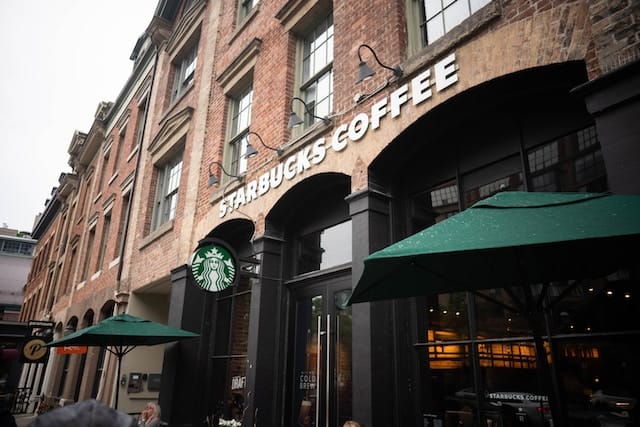 What's Vegetarian at Starbucks: Vegetarian and Vegan Options
| Menu Item | Vegetarian | Vegan |
| --- | --- | --- |
| Impossible Breakfast Sandwich | Yes | No |
| Egg Whites and Red Pepper Egg Bites | Yes | No |
| Oatmeal (with water) | Yes | Yes |
| Bagels (Plain, Sprouted Grain, Cinnamon Raisin) | Yes | Yes |
| Hearty Blueberry Oatmeal | Yes | Yes |
| Avocado Spread | Yes | Yes |
| Roasted Tomato & Mozzarella Panini | Yes | No |
| Spinach, Feta, & Cage-Free Egg White Wrap | Yes | No |
| Plant-Based Drinks (Soy, Almond, Coconut, and Oat Milk) | Yes | Yes |
| Most Syrups (e.g. Vanilla, Hazelnut, Caramel, Mocha) | Yes | Yes* |
| Tea (Hot and Iced) | Yes | Yes |
| Coffee (Hot and Iced, without cream) | Yes | Yes |
*Some syrups, such as the White Chocolate Mocha sauce, contain dairy products. Check with your barista to ensure a syrup is vegan.
Vegetarian Breakfast Options at Starbucks: What's Vegetarian at Starbucks?
Starbucks offers an array of breakfast items for those who prefer vegetarian options:
Impossible Breakfast Sandwich: A breakfast sandwich with a fried egg and impossible sausage patty
Spinach, Feta, and Cage-Free Egg White Wrap: A wrap filled with egg whites, spinach, feta cheese, and tomatoes.
Classic Oatmeal: Hearty oatmeal served with your choice of toppings, such as dried fruit, nuts, and brown sugar.
Bagels: Choose from plain, multigrain, or cinnamon raisin bagels. Pair with cream cheese or avocado spread.
Yogurt Parfait: Greek yogurt layered with fruit and granola.
Vegetarian Lunch and Dinner Options at Starbucks: What's Vegetarian at Starbucks?
In addition to breakfast items, Starbucks also provides vegetarian-friendly lunch and dinner options:
Cauliflower Tabbouleh Salad: A refreshing salad made with cauliflower, tomatoes, cucumbers, and parsley.
Tomato and Mozzarella Sandwich: A sandwich with fresh tomatoes, mozzarella cheese, basil, and balsamic glaze.
Grilled Cheese Sandwich: A classic sandwich made with melted cheese on toasted bread.
Quinoa and Vegetable Protein Bowl: A protein-packed bowl with quinoa, vegetables, and a lemon-tahini dressing.
Vegetarian Snacks at Starbucks: What's Vegetarian at Starbucks?
If you're looking for a quick snack, Starbucks has a variety of vegetarian options:
Fruit Cup: A cup of mixed fresh fruit.
Nut and Seed Packs: A combination of nuts and seeds for a protein-rich snack.
Popcorn or Chips: Choose from an assortment of flavored popcorn or chips.
Protein Bars: Various protein bars are available, with some catering specifically to vegetarians.
Vegetarian Beverages at Starbucks: What's Vegetarian at Starbucks?
Most of Starbucks' beverages are vegetarian-friendly. Here are a few popular options:
Coffee and Espresso: Regular coffee, espresso, and iced coffee can be customized with a variety of dairy and plant-based milk options.
Tea: Hot and iced teas, including green, black, and herbal varieties, are available.
Frappuccino: Enjoy a blended beverage in flavors like coffee, mocha, or caramel. Ask for a dairy or plant-based milk alternative if desired.
Refreshers: A range of fruity, caffeinated beverages perfect for a light pick-me-up.
Special Dietary Requirements and Allergies
Starbucks is committed to providing information about their menu items to accommodate customers with special dietary needs. Visit the Starbucks website or ask for a nutrition guide at the store to view allergen and nutritional information for all menu items. Keep in mind that cross-contamination is possible in a busy coffeehouse environment, so it's essential to communicate your specific needs to the staff.
Tips for Vegetarians at Starbucks
Here are some helpful tips for vegetarians visiting Starbucks:
Always double-check with the staff about the ingredients in a menu item to ensure it's vegetarian.
Consider customizing your order to remove meat or add extra vegetables.
Be aware of limited-time or regional vegetarian options that may not be available at all locations.
Keep an eye out for seasonal or promotional vegetarian menu items.
Conclusion: What's Vegetarian at Starbucks?
While Starbucks is famous for its coffee, there are numerous vegetarian food options available to complement your beverage. From breakfast items and lunch options to snacks and beverages, you can enjoy a meat-free experience at Starbucks. Don't forget to check with your local Starbucks for specific menu options and visit their website for nutritional information. Enjoy your visit!