What's Vegetarian at Applebee's Grill + Bar? Your Ultimate Guide
In recent years, vegetarianism has gained popularity, and more people are seeking meat-free options when dining out. Applebee's, a well-known casual dining restaurant chain, offers various options for vegetarians. This article aims to help vegetarians find what's vegetarian at Applebee's.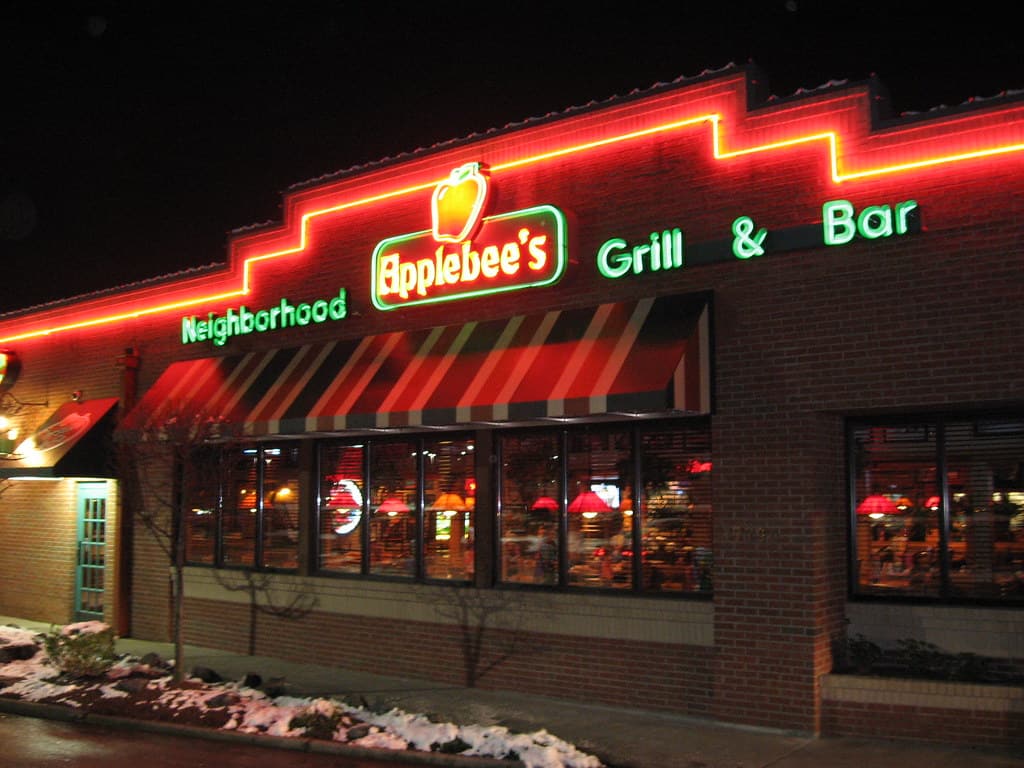 Vegetarian and Vegan Options at Applebee's: What's Vegetarian at Applebee's?
| Menu Item | Vegetarian | Vegan |
| --- | --- | --- |
| Spinach and Artichoke Dip | Yes | No |
| Mozzarella Sticks | Yes | No |
| Chips and Salsa | Yes | Yes |
| Onion Rings | Yes | No |
| House Salad (without bacon) | Yes | Yes |
| Oriental Grilled Chicken Salad (without chicken) | Yes | Yes |
| Fiesta Lime Chicken Salad (without chicken) | Yes | Yes |
| Veggie Burger | Yes | Yes |
| Three-Cheese Chicken Penne (without chicken) | Yes | No |
| Garden Vegetable Stir Fry | Yes | Yes |
| Garlic Mashed Potatoes | Yes | No |
| Steamed Broccoli | Yes | Yes |
| Baked Potato | Yes | No |
| Side Salad | Yes | Yes |
| Triple Chocolate Meltdown | Yes | No |
| Blue Ribbon Brownie | Yes | No |
| Apple Chimi Cheesecake | Yes | No |
| Hot Fudge Sundae Shooter | Yes | No |
Location Accessibility & Popularity
Applebee's has over 1,700 locations in the United States and worldwide, making it accessible for most people. The popularity of vegetarian options at Applebee's has grown over the years, with more people seeking healthier and more sustainable food choices. As a result, Applebee's continues to expand its vegetarian menu offerings.
Health Benefits & Nutritional Information
Eating a vegetarian diet has numerous health benefits, including lower risks of heart disease, type 2 diabetes, and certain types of cancer. Many vegetarian options at Applebee's are lower in calories, fat, and cholesterol compared to their meat-based counterparts. To view the nutritional information for Applebee's vegetarian menu items, visit their website or ask for a nutrition guide at the restaurant.
Tips for Vegetarians at Applebee's
Always double-check with the staff about the ingredients in a menu item to ensure it's vegetarian.
Consider customizing your order to remove meat or add extra vegetables.
Be aware of limited-time or regional vegetarian options that may not be available at all locations.
Keep an eye out for seasonal or promotional vegetarian menu items.
Conclusion: What's Vegetarian at Applebee's?
While Applebee's may be known for its meaty dishes, there are still several vegetarian options available to satisfy your cravings. From appetizers and entrees to sides and desserts, you can enjoy a meat-free meal at Applebee's. Don't forget to check with your local Applebee's for specific menu options and visit their website for nutritional information. Happy dining!
If you're not happy with your options, find what's vegetarian at other top restaurants. With a growing demand for vegetarian options, many restaurants are now offering delicious plant-based meals that cater to a variety of tastes and preferences. Explore new dining experiences and expand your culinary horizons by trying different vegetarian dishes at popular restaurants.